Production & prototyping systems : ADDITIVE MANUFACTURING
3D / AM Printing Technologies
Prosilas has twenty years of experience, a machine park with more than 10 industrial machines for 3D printing, more than 20 operators and over 500 customers.
We can speak of a technologically advanced and performing reality:
the Digital Factory.
SLS – Selective Laser Sintering
Selective Laser Sintering (SLS) is an Additive Manufacturing technology based on powder bed fusion (PBF)
SLA – Stereolitography
Stereolithography (SLA) is a 3D printing technology based on the photopolymerization of a resin contained in a tank, through the action of a laser beam that emits ultraviolet radiation.
SLS – Selective Laser Sintering
Selective Laser Sintering (SLS) is an additive manufacturing technology based on powder bed fusion ( PBF).
SLS technology uses powders with controlled particle size as a production material that is deposited evenly within the machine chamber.
The printing materials are melted by the application of thermal energy provided by a high-power laser that allows to sinter the particles layer by layer locally.
SLS technology is widely used in the field of rapid prototyping for the creation of highly complex design objects that also require good mechanical properties.
It is also used in the production of high print volumes thanks to the high productivity compared to other additive manufacturing techniques, allowing to increase the efficiency and reduce the post-process costs.
SLS Printers:
3 EOS P770 (680x370x540mm)
3 EOS P396 (300x300x600mm)
2 EOS P395 (300x300x600mm)
1 EOS 110 FORMIGA (190x240x300mm)
R&D FOR MEDICAL APPLICATION
The mixture of Polycraprolactone and Hydorxypatite allows to develop absorbable printed parts compatible with stem cell cultures: tissue engineering, bones, fillings, special medicaments, regeneration tissues.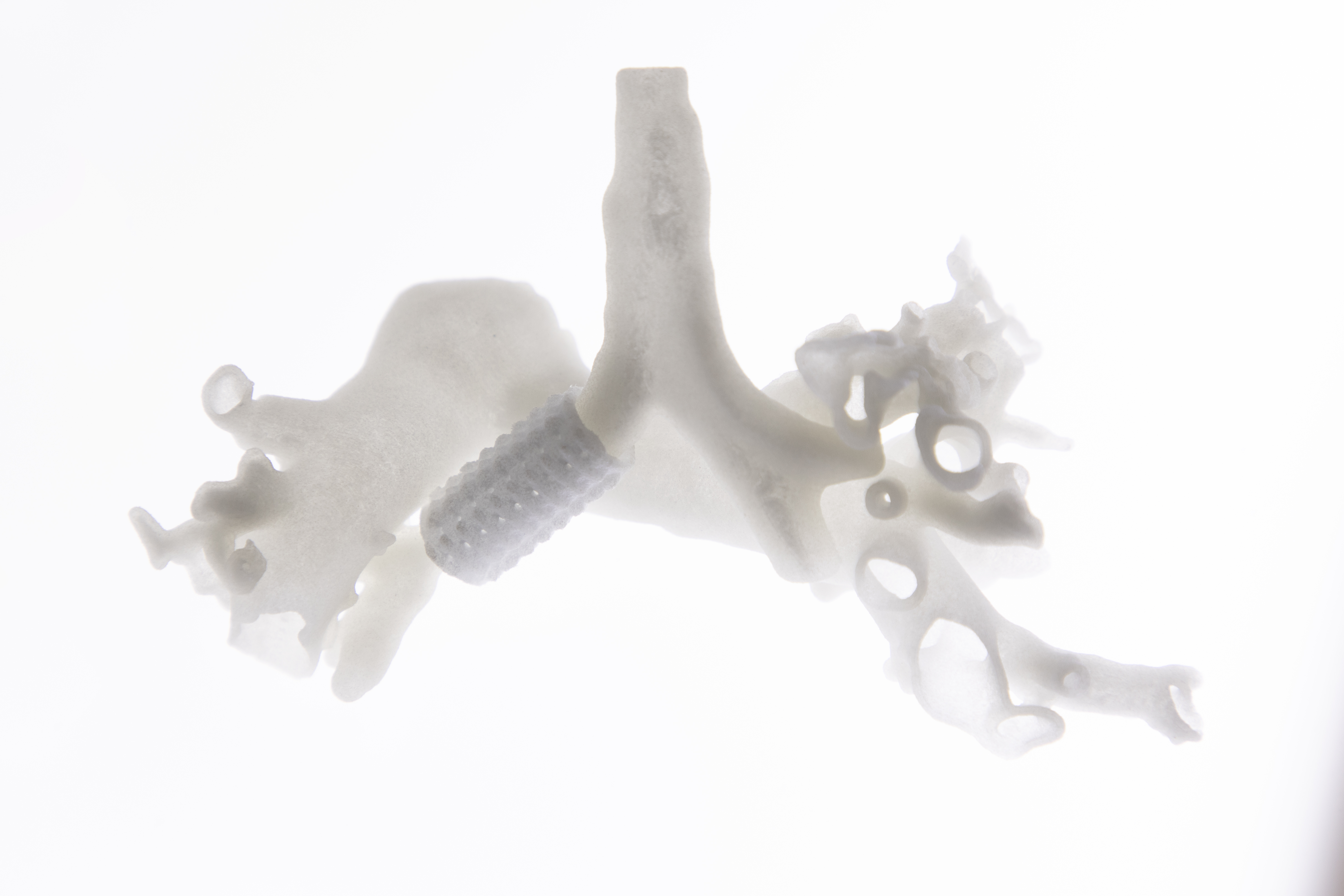 Polycraprolactone
Policaprolactone is a biocompatible polymer that can be absorbed by the human body. It is a material of revolutionary applications in the medical and scientific fields.
Hydorxypatite
Hydorxypatite is a material that has the function of increasing cell production and facilitating the resorption of the printed parts.
Prosilas provides an online service where it is possible to have a quote of your 3D file in real time, view the production costs, delivery times and order independently.
Stereolithography (SLA) is a 3D printing technology based on the photopolymerization of a resin contained in a tank, through the action of a laser beam that emits ultraviolet radiation.
Prosilas uses SLA technology for rapid prototyping of 3D products that require complex geometries, high precision and best surface quality.
SLA 3D printed parts have excellent aesthetics and can easily be subjected to several surface finishes such as painting and metallization using a galvanic process.
With SLA technology, different resins can be used depending on the purpose of the prototype. Thanks to the high details and excellent surfaces of this technique, it is possible to produce test parts for wind tunnels, masters for silicone molds or to print transparent objects for prototyping car lenses and lights.
More  AM & Traditional Technologies
DMLS

– Direct Metal Laser Sintering
Direct laser sintering of metals (DMLS) or selective laser melting (SLM) are additive technologies for manufacturing metal parts.
Similar to SLS, DMLS/SLM techniques are based on the concept of powder bed fusion (PBF). With DMLS/SLM, metal 3D parts are printed starting from a raw material in powder that is sintered or melted. 
Parts made with DMLS/SLM have mechanical properties equal or superior to those built with traditional techniques and can be used in the field of rapid prototyping, or as final components for series production.
Both technologies offer remarkable precision and the materials are suitable for many post-processes, such as CNC machining, heat treatments, both aesthetic and functional surface treatments/ performance
FDM

– Fused Deposition Modeling
Fused Deposition Modeling (FDM) is an additive manufacturing technology that creates objects by depositing a filament layer by layer from a printing nozzle. 
FDM technology can be used with a wide range of standard thermoplastic polymers.
You can create basic proof-of-concept models and provide a rapid prototyping service, taking advantage of low production costs. 
FDM printed parts are resistant to heat, chemicals, mechanical stress and environmental variables thanks to their very high resistance and excellent thermal stability of the materials supplied by Prosilas.
The characteristics of durability and strength of the parts make FDM one of the most popular technologies for the production of objects for the aeronautical, aerospace and motorsports sectors.
Prosilas uses the vacuum casting technique (vacuum molding of polyurethane resins inside silicone moulds) to provide objects with complex geometry in small series for testing, maintaining excellent details, good mechanical characteristics and excellent surface quality.
A molded master is created using SLA technology to ensure a good surface to replicate, from which a silicone mould is obtained.
To make the replicas of the object, the material is then vacuum-sealed inside the mould.
In development projects, there is often a need to undertake functional testing of the final design early on, using materials that simulate the plastic of the final construction. By producing casting moulds from silicon, parts can be cast in polyurethane (PUR) with the required properties.
Lamination is a 3D printing technique that involves the arrangement of layers of carbon fiber or glass in a mould in order to obtain a shape. 
The mould is then placed in autoclaves where the material is cured by temperature and controlled pressure.
The process of lamination guarantees very high quality and mechanical standards for the production of parts in aerospace, automotive and motorsports.
CNC

–
Mechanical processing
CNC machining is a subtractive production process: a block of plastic material is machined by sharp rotating tools, removing the material to obtain an object.
Prosilas uses CNC to finish SLS parts if it is necessary to supply components with tight tolerances, above additive manufacturing standards, to ensure dimensional compliance or precise surface roughness.
It can also be the best option when some large, low-cost products, specific materials, or high-precision components are needed.
CNC Materials:
Epoxi Resin & PU
PMMA
Aluminium
Contact us
The Prosilas Staff will respond quickly by sending a detailed quote with costs and delivery times.