Our services
From prototype to the finished part
We are able to follow the life cycle of each product from prototyping to large volume production thanks to the vast production capacity of the Prototal Industries Group.
Why design for additive manufacturing?
Through Additive Design it is possible to obtain lighter components while maintaining the mechanical performance and to develop more competitive products from the point of view of weights, shapes and costs, even on a large scale.
Design, validate and produce multiple versions of the product simultaneously
Eliminate molds and tools
Reduce of product development times, switching from the idea to the final product in a short time
Aggregate multiple functional components in only one part
Reduce waste material
Rapid Prototyping
With additive techologies
Prototyping is one of the key parts of product development. Traditionally it is a phase that requires high costs and long delivery times.
Rapid prototyping, on the other hand, allows companies to quickly transform the ideas of designers and engineers into proof-of-concepts that are as realistic, scaled and functional as the final products.
The prototype is made using additive manufacturing technologies and 3D printing, which allows you to create objects with complex geometry and excellent aesthetic results.
Prosilas, a European leader in the sector, offers the Rapid Prototyping service and supports its customers through certified technologies, tests and processes.
Advantages
Evaluate the aesthetical aspect

Optimize geometries

Improve production cycles

Evaluate functional aspects
Improve the technical characteristics of the products
Evaluate and optimize production times and costs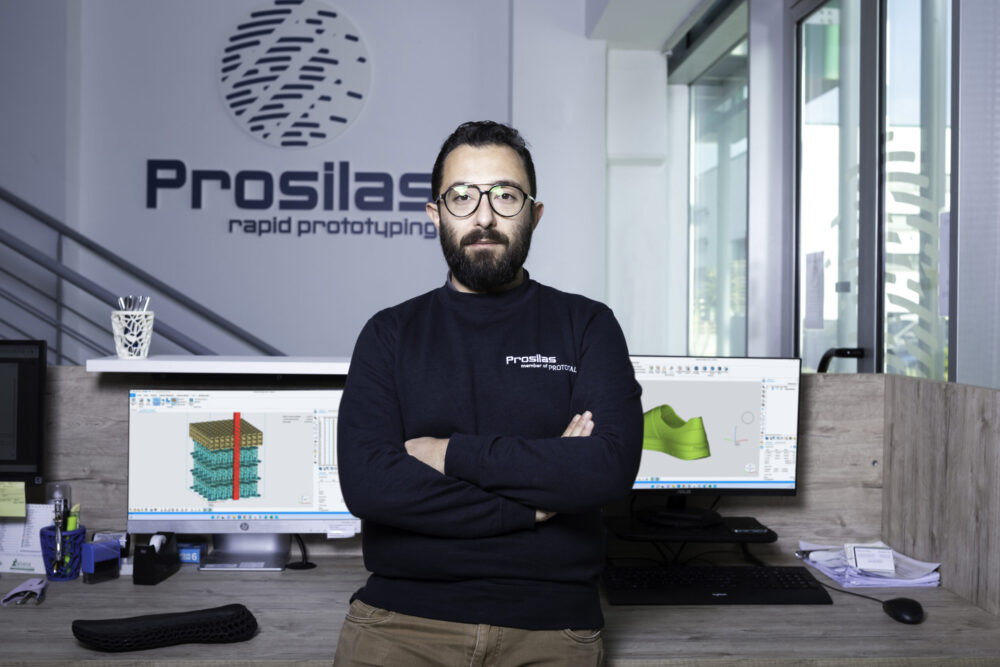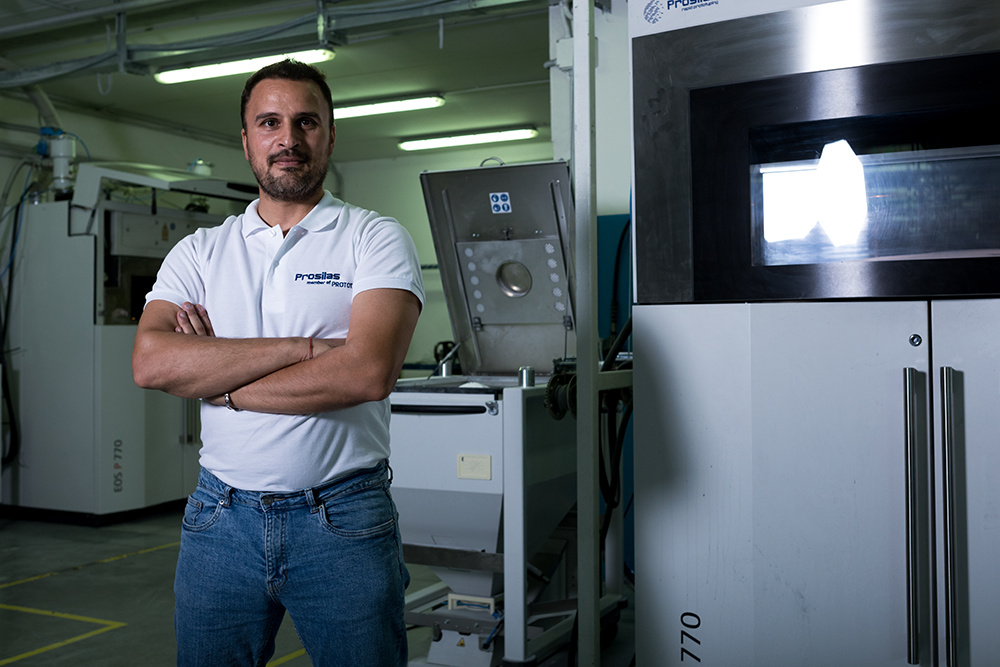 Production
With Additive and Traditional Tecnhologies
Prosilas is the ideal partner to evolve traditional manufacturing in additive production, thanks to its technologies and production capabilities.
Nowadays, Additive manufacturing technologies are the most efficient and sustainable choice for dealing with series and pre-series production. For large print volumes we rely on traditional technologies thanks to the vast fleet of machines for vacuum casting and injection molding.
High volumes
High-volume production with injection moulding.
Low/Medium volumes
Low and medium volume production through additive technologies.
Start a project
Prosilas Staff will respond quickly by sending a detailed quote with costs and delivery times.
Consulting
As your partner
Prosilas team's best quality is its ongoing training and the strong motivation of our operators, who constantly place the customer at the center of their work; thus allowing the Company to guarantee a highly competent service.
Prosilas and its staff guide their customers in optimizing production by offering professional and specialized support to achieve innovative objectives and strategies.
A close relationship with our customers allows us to guide them in finding the best solutions for their needs.
Customers and their projects are followed step by step from the early stages – feasibility study, co-design, production optimization – up to the finishing stage.
Proposing the best solutions and making the most of all the possibilities of the technologies at our disposal.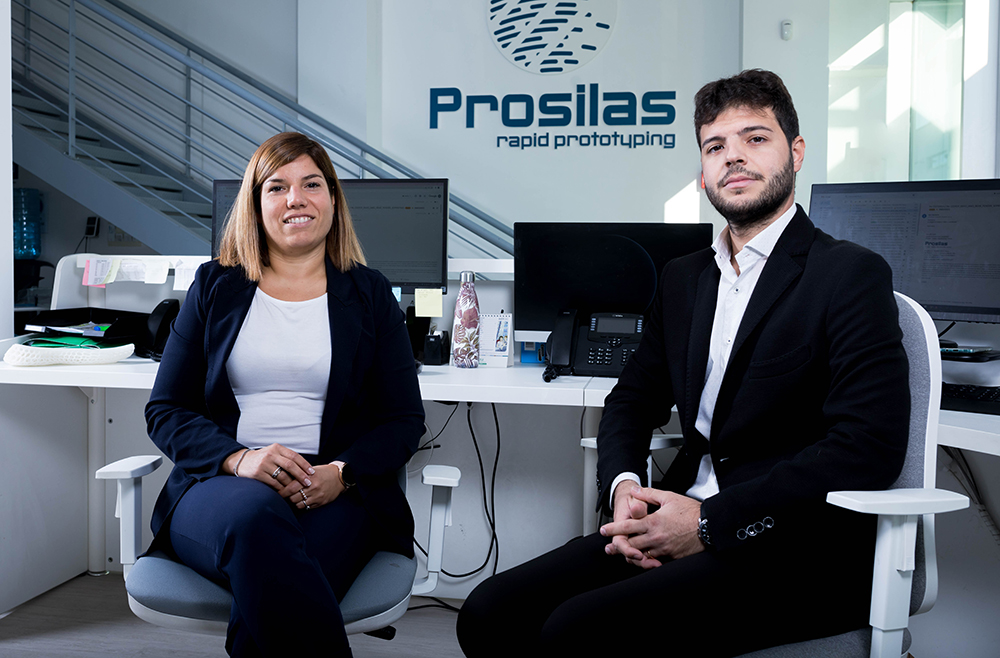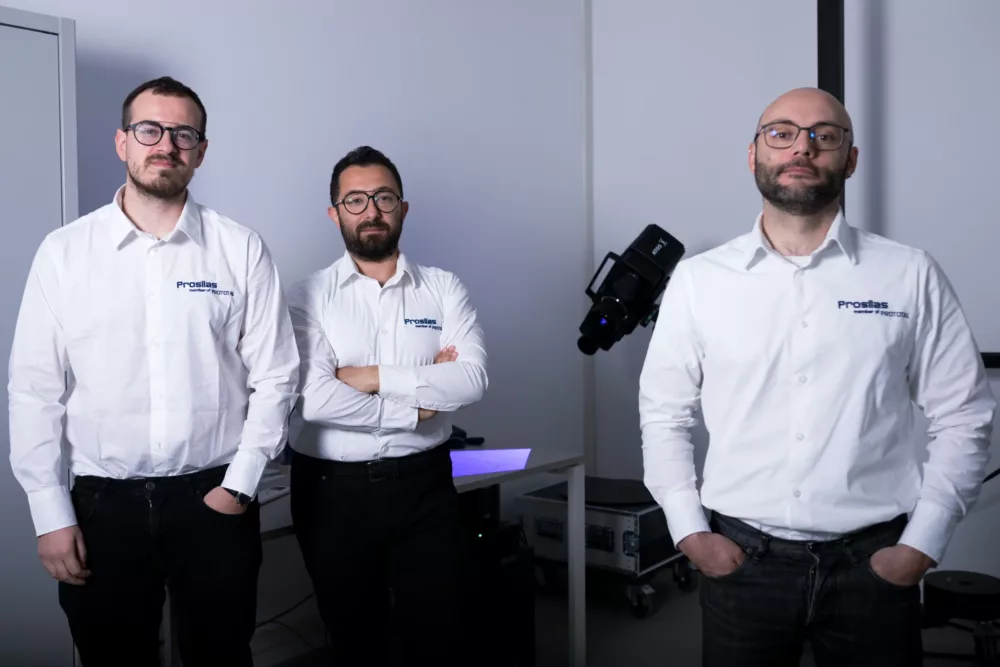 3D Scan / Reverse Engineering
Metrological and Quality control
Prosilas offers metrological reports and reverse engineering service using a Gom Atos 5 scanner. This scanner allows to  analyze the parts, functions of the element with very high precision;  moreover, to apply a metrological control and to create an exact 3D representation.
Reverse engineering allows manufacturers to analyze the design of the part, in order to replicate it, make changes or improvements.
With reverse engineering it's possible
Reconstruct a file 3D of the scanned object, with a high precision;
Compare the product with the designer's concept, highlighting the differences;
Have accurate dimensional control;
Have certified compliance reports on parts produced with other technologies;
Create or rebuild a 3D file.
Start a project
Prosilas Staff will respond quickly by sending a detailed quote with costs and delivery times.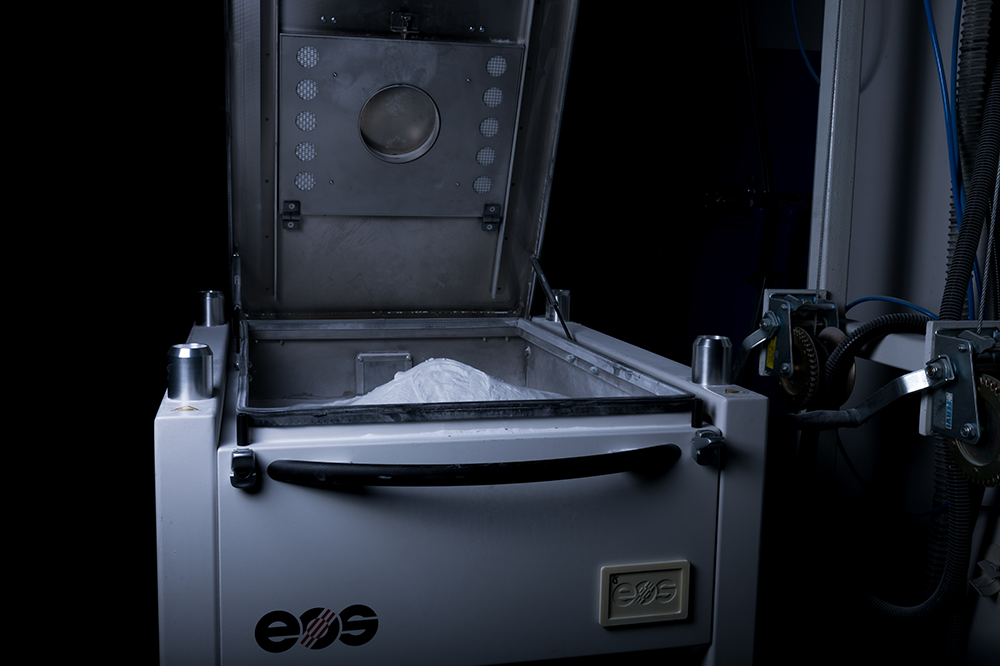 Materials
Best choice of materials
Prosilas dedicates a constant commitment and great attention to technological development and to the achievement of its customers' specific requirements, also reccomending the right material to achieve customers objectives.
Powders & Printers
Integrated Process Chain Management – MQS
Prosilas manages the mixing of the powders through the MQS system (miscellaneous quality standard) and our machines are also powered by the Eos IPCM Plus (Integrated Process Chain Management) in order to keep the production repeatable and to guarantee quality standards.
The workflow is managed by an order and production tracking software.
Case Study
Prosilas Blend for medical applications
Polycraprolactone + Hydroxyapatite
allows to develope absorbable printed parts with stem cell cultures: tissue enginerrieng, bones, fillings, special medicaments, rigeneration tissues.
Policaprolactone is a biocompatibile polymer that can be absorbed by the human body. A revolutionary material for application in the medical field.
Hydroxyapatite is a material that has the function of increasing cell production and facilitating the resorption of the printed parts.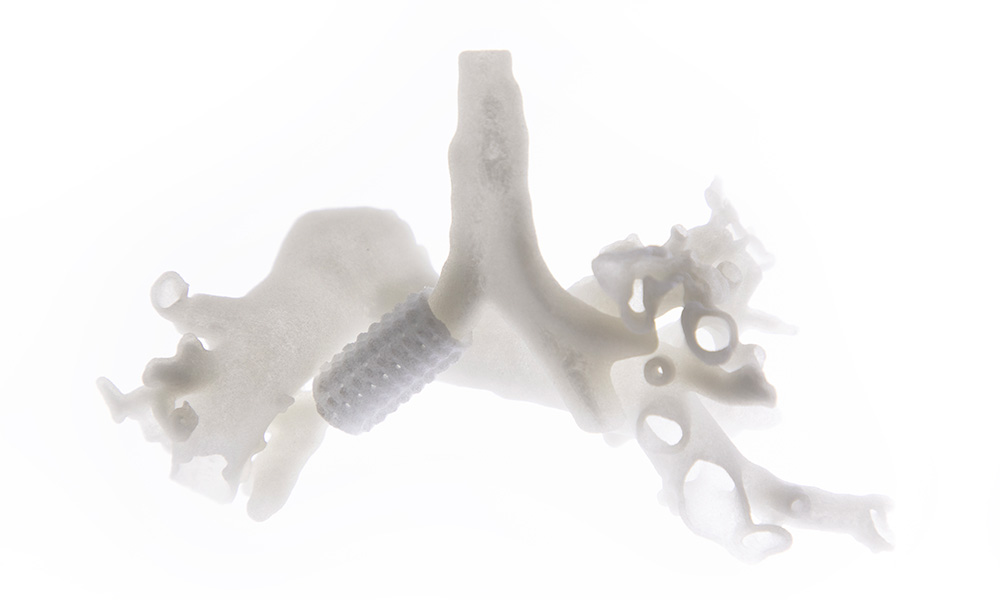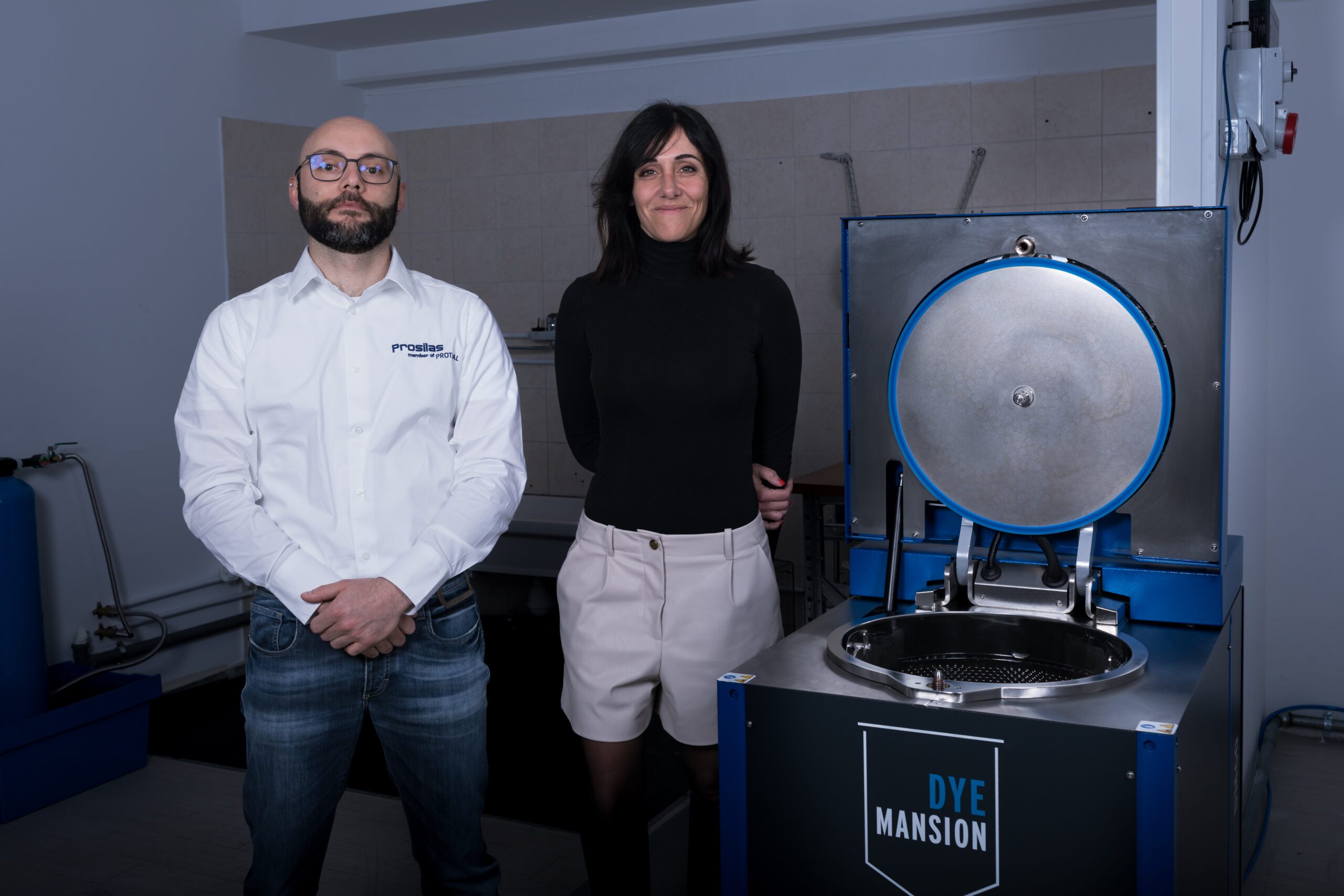 Post Process
treatments for aesthetic and functional improvements
All parts produced by Additive Manufacturing can receive post-process treatments for aesthetic and / or functional improvements.
The most suitable treatments are chosen on the basis of the standards that the product must meet.
The New DM60 for Prosilas  Industrial coloring of 3D printed parts. 3D printing is making...
read more
Armotia + Prosilas Case History Prototypes of electric motorcycles: the support of 3d printing....
read more
Automated Coloring with DyeMansion DM60
The color penetrates inside the piece for a few tenths of a millimeter. It does not alter the part dimensionally.
Advantages
Wide choice of colors
It can also penetrate into the hollow parts of the piece
Scratch resistant
Does not affect the original dimensions of a part
Does not change the geometry and details
Vapor Smoothing
Treatment of the SLS part with chemical vapor:
Advantages
Waterproofing
Makes the part washable
Smooth surface
Compatibile with food contact
Facilitates the flow of fluids (possibility of internal treatment, pipes and tanks)
Reduces the proliferation of germs and fungi (food and medical applications)
It leaves no residue
Finishing manuali
Waterproofing for liquids & vapors
Metal Insert-Helicoil
Metal Plating
Fuel Resistant Treatment
UV Resistant Treatment
Painting
Micro shot peening
Surface Race Finish