Start a project in PA2210 FR?
The Prosilas staff will respond promptly by sending a detailed quote with costs and delivery times
PA2210 FR
PA2210 Flame Retardant
The PA2210 FR is an advanced SLS material based on PA2200, enhanced with a flame retardant.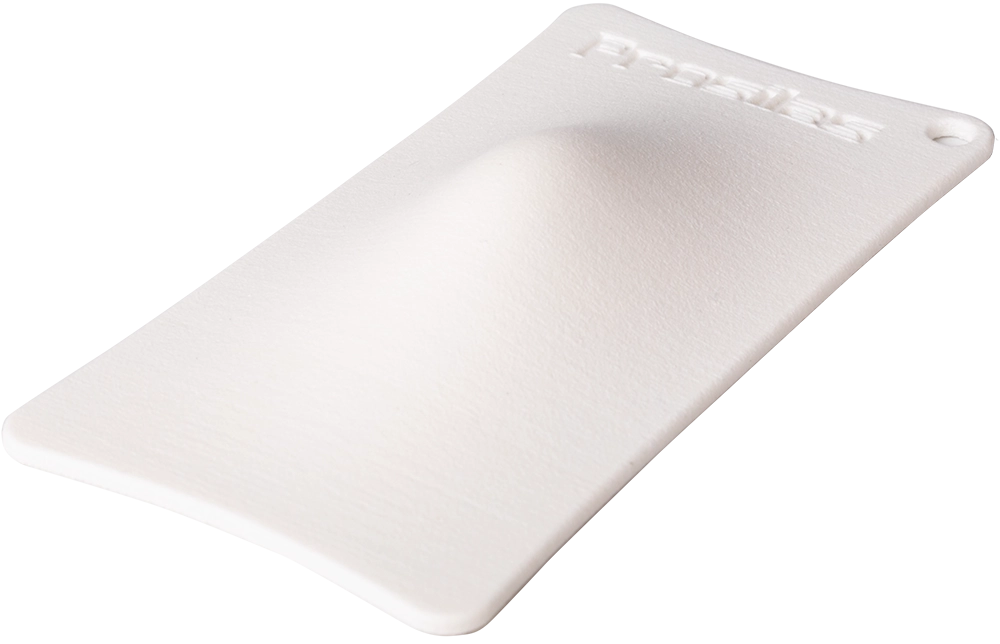 The PA2210 Flame Retardant is a high-performance composite of PA2200, specifically designed to provide a reliable and safe solution in various industrial contexts.
Its formulation includes a halogen-free flame retardant, giving it excellent flame-resistant properties, making it particularly suitable for applications that require high safety standards.
Our laser powder bed fusion (SLS) technologies allow us to produce self-extinguishing applications, prototypes, or entire production batches with this flame-retardant material.
what are
self-extinguishing materials? 
Self-extinguishing materials are substances designed to reduce or eliminate the spread of flames once removed from the ignition source. These materials contain chemicals or additives that disrupt the combustion process, either delaying the flame or extinguishing it entirely.
Their application is particularly critical in sectors where fire safety is a priority, such as electronics, aviation, automotive, and other industrial contexts.
Classifications of self-extinguishing materials, as defined by the UL 94 standard from UNDERWRITERS LABORATORIES INC., provide a scale to assess their ability to resist flame propagation. The main classifications include:
HB Classification (Happy Burning): The material typically burns without releasing toxic gases.
V2 Classification: The material extinguishes in less than 30 seconds after the flame is removed. The sum of 10 applications does not exceed 250 seconds, with no glowing combustion phenomena after 60 seconds from flame removal. Dripping may ignite surrounding material.
V1 Classification: The extinguishing time is less than 30 seconds, with the same restrictions as V2. However, dripping does not ignite surrounding material.
V0 Classification: The extinguishing time is less than 5 seconds, the sum of 10 applications does not exceed 50 seconds, with no glowing combustion phenomena after 30 seconds from flame removal. Dripping does not ignite surrounding material.
The material is JAR 25 certified for the aviation sector and UL94 V-0 certified for the production of components to be applied in electrical and electronic systems.
PA2210 FR stands out for its ability to resist fire while ensuring good workability and competitive costs compared to other flame-retardant options.
3D printed parts with this material offer remarkable elasticity, tensile strength, and a good surface finish, particularly relevant for use in sectors such as aviation and automotive
In addition to applications in the aerospace and automotive sectors, PA2210 FR Flame Retardant has been successfully used for the manufacturing of jigs, fixtures, and customized spare parts, particularly suitable for industrial environments characterized by high temperatures or potential ignition sources.
Its good thermal resistance and self-extinguishing properties make it a reliable choice in contexts where safety and performance are priorities.
Aerospace and Transportation Sector: Widely employed for the production of interior components for trains, planes, and automobiles, such as cockpit parts, cabin elements, ventilation ducts, air tubes, and exhaust valves. Additionally, its excellent surface finish makes it ideal for applications requiring high-quality aesthetics.
Electronic and Medical Applications: Used to create protective components and interiors for consumer electronic/electrical devices or medical devices.
Industrial Sector: Well-suited for the production of customized components (jigs, fixtures, and spare parts) for industrial environments with high temperatures or potential ignition sources, offering thermal resistance and advanced safety.