Start a project with Alumide?
The Prosilas staff will respond promptly by sending a detailed quote with costs and delivery times
Alumide
Let's delve into Alumide: an SLS material used in the industry
Alumide, the result of combining aluminum powder and nylon, is widely used in industrial prototyping and the mass production of 3D-printed final components.
Its unique properties, such as strength, rigidity, and good thermal conductivity, make it suitable for a wide range of sectors, including manufacturing, aerospace, and automotive industries.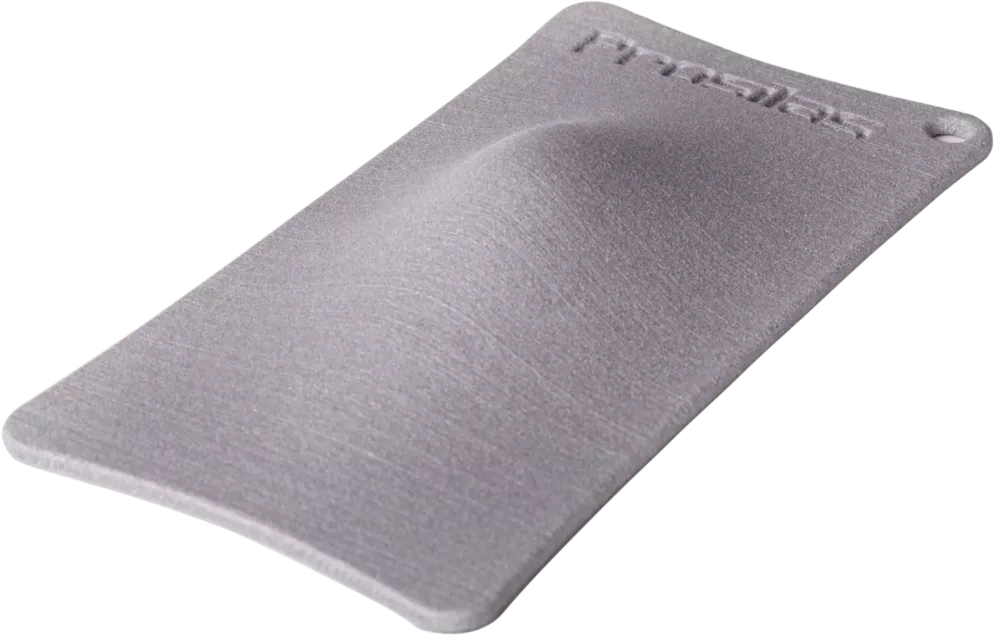 Alumide is a combination of polyamide powder (nylon/PA2200) and aluminum powder, providing it with strength, rigidity, and the classic metallic gray color.
It is used in the 3D printing process through the technique of Selective Laser Sintering (SLS).
This material is characterized by its high rigidity, metallic appearance, its ability to withstand significant thermal loads, and good post-processing possibilities such as CNC machining.
Parts produced through laser sintering additive technologies based on Alumide stand out for their excellent mechanical properties.
The use of this material allows the creation of objects with:
Excellent dimensional precision;
A balanced ratio of density and rigidity;
Good thermal conductivity;
Good workability. 
Finishing e post-process treatments
Parts printed inAlumide can undergo post-processing to enhance their aesthetics and functionality, which can vary based on the specific project requirements.
Micro blasting: Micro blasting can be used to achieve a smoother and more uniform surface, reducing any surface irregularities.
Polishing: Polishing can provide a shiny and smooth finish to the parts, contributing to improving the aesthetic appearance and tactile feel.
Painting: The application of paint can further customize the appearance of the printed parts, offering a wide range of colors and finishes based on specific customer requests.
In this regard, we provide our Case Study in collaboration with Armotia.
Furthermore, the significant advantage of using this material is the possibility of additional subtractive post-processing (milling, drilling, or turning).
This material is known for its unique combination of strength, rigidity, and lightness, making it suitable for industrial applications and rapid prototyping.
Predominantly used in industrial prototyping, it proves ideal for creating robust and functional prototypes.
Its strength and rigidity also make it suitable for the production of mechanical components, such as gears and supports.
In the field of specialized tools, Alumide offers robustness for the fabrication of tools, supports, positioning jigs, and fixtures.
Its versatility ranges from the production of customized parts, particularly in sectors like aerospace and automotive, to integration into multi-material assemblies to enhance overall performance.
Furthermore, its good thermal conductivity properties make it suitable for applications involving heat management, such as electrical components or applications that require good abrasion resistance and thermal dissipation.
It's important to note that Alumide is not limited to the prototyping phase but extends effectively to the mass production of components intended for final use in a variety of industrial sectors.