SLS jigs
Production of custom equipment for the industrial sector through 3D printing technologies.
The tooling sector is one of the most interesting fields for the production of parts with additive technologies.
In this specific case, assembly guides for drilling on mechanical parts have been produced in the Prosilas plants.
Freeform design
La progettazione freeform e la possibilità di produrre parti custom on demand senza dover fare magazzino, rende le tecnologie additive la soluzione ideale per produrre in breve tempo tool dedicati per lavorazioni speciali o per montaggi ed assemblaggi particolarmente complessi.
L'adozione di tecniche di progettazione additiva per sistemi SLS ha permesso di realizzare geometrie particolarmente resistenti e al contempo leggere, in tempi brevi.
Grazie all'ausilio di sistemi di acquisizione 3D (scanner) è stato inoltre possibile riprodurre con estrema precisione le dime richieste dal nostro cliente.
The freeform design and the ability to produce custom parts on demand without warehouse  makes additive technologies the ideal solution to produce in a short time  tools for special machining or for complex assemblies.
The use of additive design techniques for SLS systems has made it possible to create particularly resistant and light parts, in a short time.
Thanks to the help of 3D Scanner it was also possible to reproduce with extreme precision the jigs requested by our customer.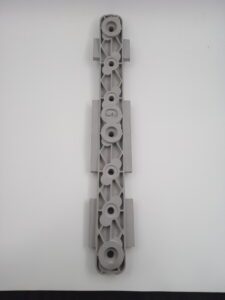 Alumide, as SLS material
Alumide – the powder of PA12 with aluminum – is among the most used materials by the manufacturing industry for the realization in 3D printing of parts that need good abrasion resistance and good thermal dissipation.
The geometries produced with SLS and Alumide technology are characterized by excellent mechanical performance and high rigidity as well as for machinability with tooling technologies.
The 3d printed parts produced using Alumide-based laser sintering additive technologies are characterized by excellent mechanical properties.
The use of this material allows you to create objects with:
excellent dimensional accuracy
balanced ratio of density and stiffness
good qualities of thermal conductivity
good workability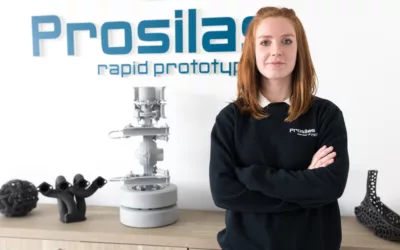 Tolerances are used to establish the limits within which a specific dimension can vary without compromising the functionality of the 3D printed part.
read more
Contact us
The Prosilas Staff will respond promptly by sending a detailed quote with costs and delivery times.