PA6
PA6 powders processed with our Selective Laser Sintering (SLS)  technologies are the ideal solution for the production of functional prototypes, or medium-small, high-performance production batches.
PA6: what is it ?
PA6 is one of the most performing materials used in additive manufacturing and is part of the polyamide family. The use of PA6 powders in additive manufacturing with SLS 3D printers is a well-known combination in industry. Thanks to the use of this material it is in fact possible to realize resistant applications even at high temperatures with excellent mechanical properties.
PA6 powder characteristics and performance
PA6 is used in Prosilas for the production of robust parts that need to have good chemical resistance, abrasion and impact resistance. One of the peculiarities that makes it a valid alternative to the PA12, is the excellent resistance to high temperatures.
3D printing material with SLS technology is also used for additive manufacturing of parts with high strength and rigidity.
 High tensile strength
 Good fatigue strength
 High compressive strength
 Good resistance to ageing
 Good chemical resistance to organic compounds
Fields of application
Except for electrical applications (it is a hygroscopic material) PA6 is a material widely used in the mechanical industry and in the manufacturing industry in general.
The main fields of application of PA6 are:
Engineering applications
Automotive
Automation
Tooling
Packaging
Advantages
Like all materials processed by our industrial 3D printing systems, applications produced with PA6 can also be subjected to aesthetic or functional post-processing through our dedicated technologies.
Thanks to our post-process processing, you can improve the performance and aesthetic characteristics of your additive production.
For more information see PA6 data sheet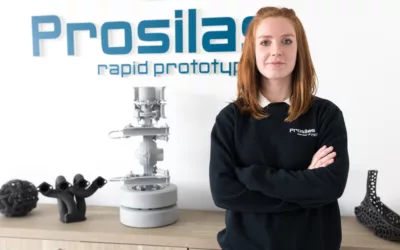 Tolerances are used to establish the limits within which a specific dimension can vary without compromising the functionality of the 3D printed part.
read more
Contact us
The Prosilas Staff will respond promptly by sending a detailed quote with costs and delivery times.